Blog and News
NEWS | 22.12.2020
Agripina Awards — Nóvalo 🥇First Finalist 🥳 in the Spot Category With the Aidoo by Airzone Campaign Alongside Bazar Films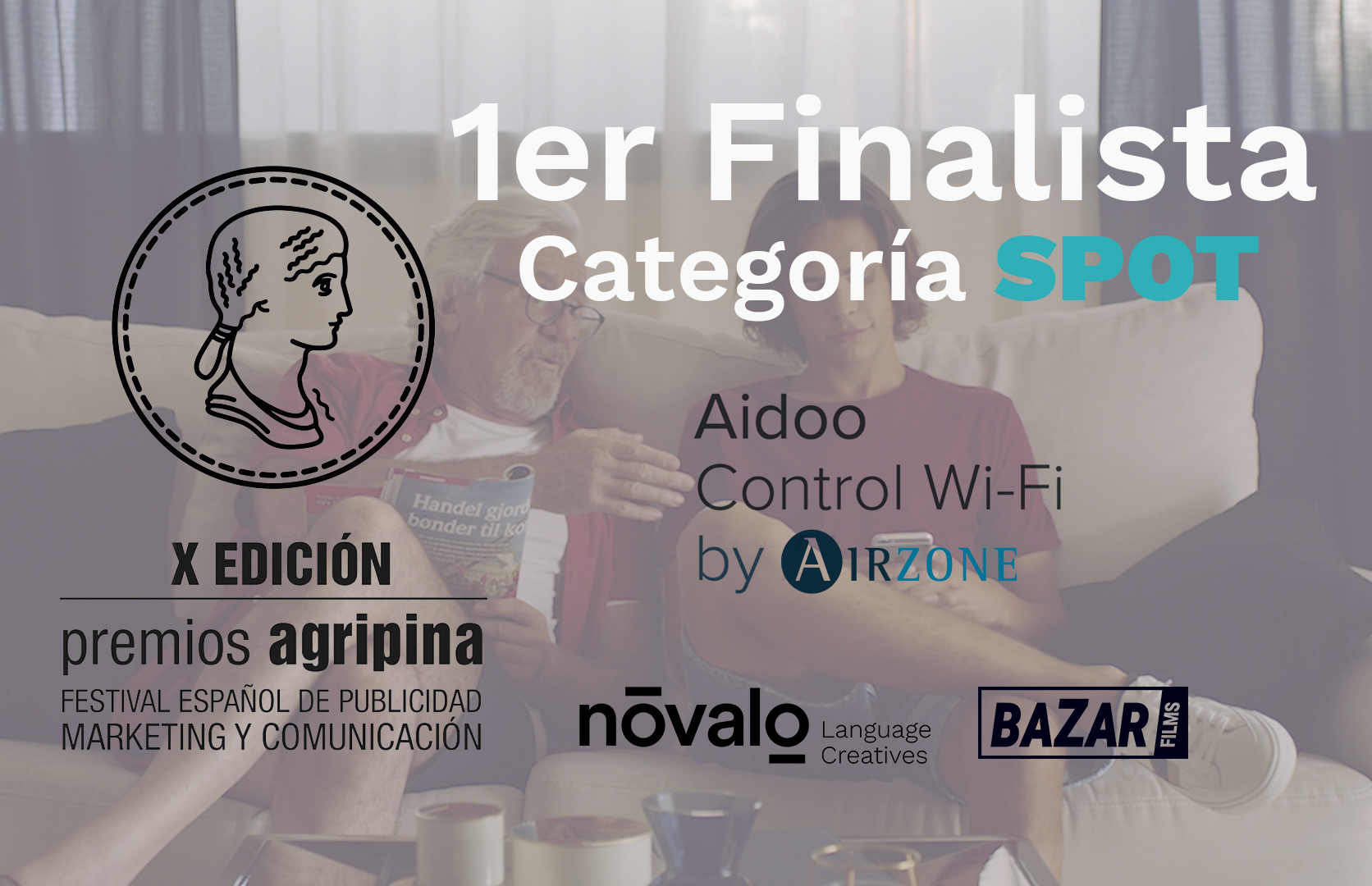 First Finalist at the Agripina Awards in the Spot category: At Nóvalo and Bazar Films we are in luck! It has been a rather strange and bitter year, but it seems to end with fantastic news for Nóvalo and our partner Bazar Films: we have been the First Finalist in the Spot category at the Agripina Awards, surrounded by the best agencies and ads of the year.
An honour and pride that allows us to close the year with an achievement and a shared success, in this case, with our partner Bazar Films, the Malaga producer in charge of projects and short films as interesting as Closet, with Pepe Viyuela, or Black Bass, with Antonio de la Torre.
10th Agripina Awards — A Reference in Advertising and Marketing
The Agripina Awards are a benchmark among members of the advertising, marketing and communication industry at national level. Thanks to the awards, innovation in communication is given visibility through creative talent, displayed in the advertising pieces of each category, thus promoting the marketing culture among entrepreneurs and highlighting the importance of originality in the start-up of any business model.
In addition, this year was the first time we entered the contest, with a campaign for our customer Airzone, so we feel especially recognized for our effort and work. Among the finalists of the Agripina Awards were other renowned and recognized finalists in different categories, with examples such as Avanza, Taurus, the Abbsolute Group, Mr. Burns or Apolo, which makes us even more proud.
Our campaign on the screens for Spot category at the Awards Ceremony.
The ceremony of the 10th Agripina Awards, which was held on November 26th, was virtual and especially original. All the finalists and winners gathered in a virtual room where there was no shortage of celebrations, cheers and applause. A very special moment in which we had the opportunity, despite the circumstances, to meet virtually with stars of the advertising and marketing sector in Spain.
But the Agripinas are much more than just awards. Participants engaged in a complete programme of activities, such as a virtual football competition or a Daniel del Toro cooking show, in addition to being able to attend different webinars and even a closing party on a beach (virtual, of course) with a live DJ.
Networking has been the general tone of the event, although this year could not be face-to-face, since the interaction has been possible thanks to the so-called VR Business: a virtual reality system that allows keeping connection between different people.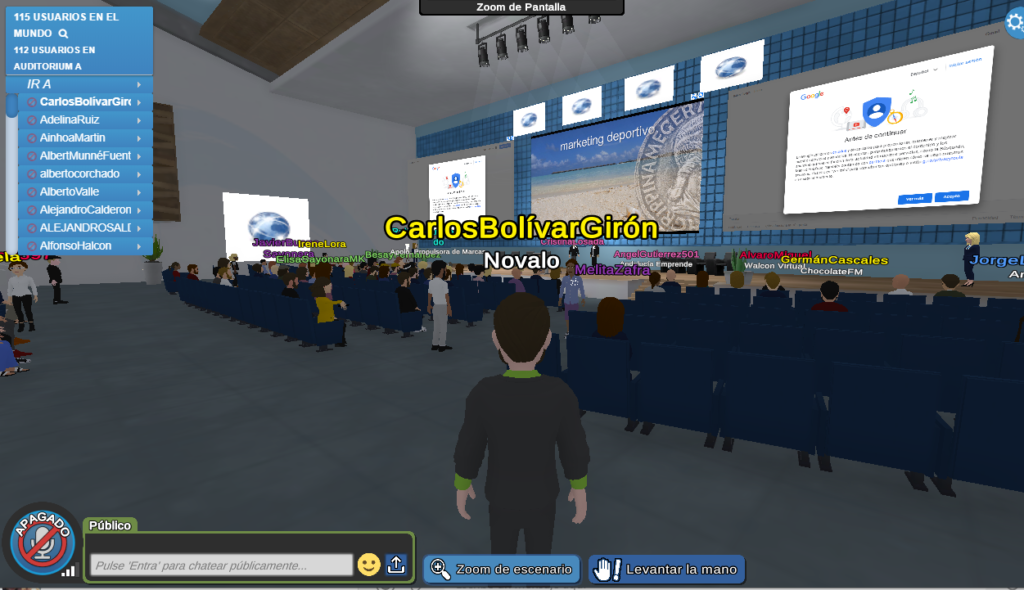 Our CEO Carlos Bolívar at the Awards Ceremony.
Nóvalo and the Campaign for Airzone Finalist at the Agripina
The campaign with which we have achieved this award that makes us so happy is Aidoo by Airzone, a campaign consisting of several spots through which we manage to show in an innovative way in the sector and for our customer their new Aidoo product, a Wi-Fi Inverter controller that allows a perfect combination of their air conditioning systems with smart systems such as Alexa or Google Home.
The campaign consists of three 1-minute spots under the same formula: The Travel, One Degree for the Planet and Meet The Parents, with the aim of impacting the B2C target in their new international markets. In addition, it was intended to increase brand recognition and fame for its traditional markets, targeting the B2B target of air conditioning professionals. With an international casting and a team of over 30 qualified professionals, the multi-channel campaign generated more than 200,000 views and 90,000 clicks on different ads and publications.
We decided to combine technology with the daily life of the target audience, show the ease and enjoyment of use in their daily lives and integration with smart and home automation systems, in addition to the fact that the customer, thanks to the use of the new Airzone system, could contribute to the fight against climate change and reduce energy consumption.
The latter is conceptualized in the hashtag #onedegreefortheplanet, which has been applied to various channels and formats of the campaign: social media, web, blog, copywriting, audiovisual, etc.
10th Edition Finalists
INSTITUTIONAL
Kitchen – Baltasar va primero – Ayuntamiento de Úbeda
Roi Scroll – Somos Semente – CRAEGA
AMUNDSEN – Juntos es más Navidad – MERCAMADRID
RADIO
AMUNDSEN – El poder está en tu mano – Canal de Isabel II
icbrg – Tú sí que eres mi King – Panaderías El Mimbre
TOURISM
SrBurns – La ruta de los likes – MAPFRE
Apolo – Un lugar para enamorarte – Mancomunidad de Municipios del Campo de Gibraltar
Avanza – Estrellas en tu noche – Ayuntamiento de Antequera
DIRECT MARKETING
La Máquina de Humo – Viajar en los tiempos de COVID – Grupo Adriano
José Alberto Callejo – Cocineros Vs Críticos – KGB Málaga
PROMOTIONAL MARKETING
Avanza – Grandes cuidados para grandes vidas – Seniors Residencias
José Alberto Callejo – Te regalo un minuto – KGB Málaga
Apolo – Un lugar para enamorarte – Mancomunidad de Municipios del Campo de Gibraltar
SOCIAL MARKETING
FLUOR Lifestyle – El universo transmedia de El último show – Aragón TV
Taurus – Vídeo Casero
Avanza – Un día sin cáncer – Asociación Española Contra el Cáncer
STREET MARKETING
Agencia Wola! – Siente la ciudad – YIT Hoteles
Vibranding – Parla idiomes & feel free – Cambridge School
Grupo Abbsolute – Gracias por elegir Andalucía – Turismo Andaluz
BRANDING
Alternativa – Granada por – Ayuntamiento de Granada
Elvira Gordo Megías – You. Solo Yoga – María Vinagre
Apolo – gRILLAERA Burger
ENVIRON BRANDING
Avanza – Juntos por un sueño – Teatro del Soho CaixaBank
Vibranding – Block
BRANDED CONTENT
Apolo – Reconduce tu Futuro – Audi Center Campo de Gibraltar
FLUOR Lifestyle – El universo transmedia de El último show – Aragón TV
SrBurns – La ruta de los likes – MAPFRE
EFFECTIVENESS
Mientrastanto – El último regalo – Gobierno de Canarias
SrBurns – #ASmartStory – Banco Santander
Grupo Abbsolute – Stand Turespaña – FITUR 2020
STUDENTS
Thomas Acevedo e Iván Camilo Sepúlveda – El maltrato también es pandemia
Mónica Martínez Gómez – Vengo a darte la lata – Mónica Margo
José Luis Roglá Lacueva & Carlos García Martínez – Este bulo pa' mi culo – Renova & Maldito Bulo
HUMOR
Apolo – Apertura gRILLA Málaga
Good Monday – Vida vs Virus. Diario del confinamiento
AMUNDSEN – Soy un alimento A – MERCAMADRID
EVENTS
Avanza – Estrellas en tu noche – Ayuntamiento de Antequera
Grupo Abbsolute – 13ENISE – Instituto Nacional de Ciberseguridad
icbrg – La palmera solidaria – Casa Kiki
ADVERTISING PHOTOGRAPHY
Avanza – MerrycleanMas – Ecoembes y Equilibrio Marino
CORPORATE
Taurus – Vídeo Casero
Apolo – 10º Aniversario TTI – Terminal International Algeciras
Avanza – Grandes cuidados para grandes vidas – Seniors Residencias
EXTERIOR
Triciclo – El refranero de todos los tiempos – MITSUBISHI ELECTRIC
icbrg – Yo sí que tengo un plan – Museo Carmen Thyssen Málaga
ORIGINALS
Grupo Abbsolute – Anuario El Publicista: ¿Despegamos?
Good Monday – Afiche cata de aceite – Cooperativas Agroalimentaria de Andalucía (Huelva)
PACKAGING
Alejandro Saldrein – Alcohol de Aloe y Romero – AloeGenil
EDITORIAL
Emóleo – Andalucía Íbera – Diputación Provincial de Jaén
SPORTS MARKETING
Grupo Abbsolute – 130 años "Eternamente jóvenes" – Sevilla Fútbol Club
icbrg – El reencuentro – Inacua Torrejón
Grupo Abbsolute – El Gran Derbi – "Bendito Veneno" – Sevilla Fútbol Club
ON-LINE ADVERTISING
Apolo – Reconduce tu Futuro – Audi Center Campo de Gibraltar
FLUOR Lifestyle – El universo transmedia de El último show – Aragón TV
Apolo – Web master.house
WEBSITE
Apolo – Web master.house
Löwin Designs – Plan de choque para turismo – Natalia Martin Saborido
Grupo Abbsolute – Web Ayesa
SOCIAL MEDIA
Making Science – Vuelve el calvo – PESCANOVA
Mientrastanto – El último regalo – Gobierno de Canarias
SrBurns – La ruta de los likes – MAPFRE
TRANSMEDIA
FLUOR Lifestyle – El universo transmedia de El último show – Aragón TV
APPS
Sayonara- UVES
DIGITAL ANIMATION
Álvaro Cano Díaz – Nueva colección – Monkytoon
Apolo – Felicitación navideña – Terminal International Algeciras
SPOT
Nóvalo Language Creatives y Bazar Films – Aidoo by Airzone
Lypsum – Cambrils Authentica 100% – Cambrils Turismo
Apolo – Un lugar para enamorarte – Mancomunidad de Municipios del Campo de Gibraltar
STAND
Grupo Abbsolute – Asturias. FITUR 2020 – Principado de Asturias
ABE+ (beon. Worldwide + Grupo Absolute) – Ministerio de Fomento. FITUR 2020 – Adif
CSR
Taurus – Video casero
Avanza – Un día sin cáncer – AECC-Asociación Española Contra el Cáncer
Abile Corporate Events – Encuentro Directivos Zurich España: Revelación de Futura
INTERNATIONAL
Austrian National Tourist Office – Seek less, find more – Das Rund GmbH
La Máquina de Humo – Better Learning, Natalia – Cambridge University Press
Avanza – Great care for great lives – Korian
ADVERTISER OF THE YEAR
LG SPAIN (Triciclo)
gRILLAERA Burger (Apolo)
Audi Center Campo de Gibraltar (Apolo)
CAMPAIGN OF THE YEAR
Taurus – Vídeo Casero
Kitchen – Baltasar va primero – Ayuntamiento de Úbeda
Thomas Acevedo e Iván Camilo Sepúlveda – Amores que no se olvidan – (Categoría Estudiantes)
AGENCY OF THE YEAR
Apolo
Avanza Comunicación
Share
Tags
Advertising
,
Agripina Awards
,
Agripina X
,
Aidoo by Airzone
,
Awards
,
Communication
,
First Finalist
,
marketing
,
Premios
,
Premios Agripina
,
Publicidad
,
Sevilla
,
Seville
,
Spot Category
Comments
BACK